Expedy Cloud Receipt Printer 80MM with slot SIM Card 4G XPDY80EWBG
  ATTENTION: This product requires a Cloud Print subscription.
With its cloud and GPRS function (internet connection with SIM card), this 80mm connected printer allows remote printing orders to be sent from any internet source (API, merchant site, plugins, platform, software, CRM, ERP).  
Built-in Cloud module: print receipt via internet
Direct thermal printing (inkless)
Standard thermal paper 58/80mm
LCD status screen + Settings menu – NEW!
RJ11/RJ12 electronic cash drawer opener
Automatic and manual paper cutting
Sound alert "new ticket" (can be disabled)
Paper out, paper out, cover open sensors
Commands ESC POS
Custom logo
QR code 2D / EAN UPC barcodes
Print speed: 250mm/s
ATTENTION: This product requires a Cloud Print subscription.  
Interfaces
RJ45 Ethernet network cable
2.4GHZ WiFi network + WPS function
Bluetooth
GPRS mobile network 2G/3G/4G sim card slot (unlocked for all France/Europe operators)
Redundant connections to ensure uninterrupted service. The mobile network can be used as a backup connection.
Use cases
Local trade: Delivery platforms, MarketPlace, kitchen ticket, clickNcollect, withdrawal terminal Traditional eCommerce:Invoice, purchase order, picking list, barcode label, QR code… Other:Credit card receipt, lottery ticket, code promo asylum parcels, parking space, event ticketing…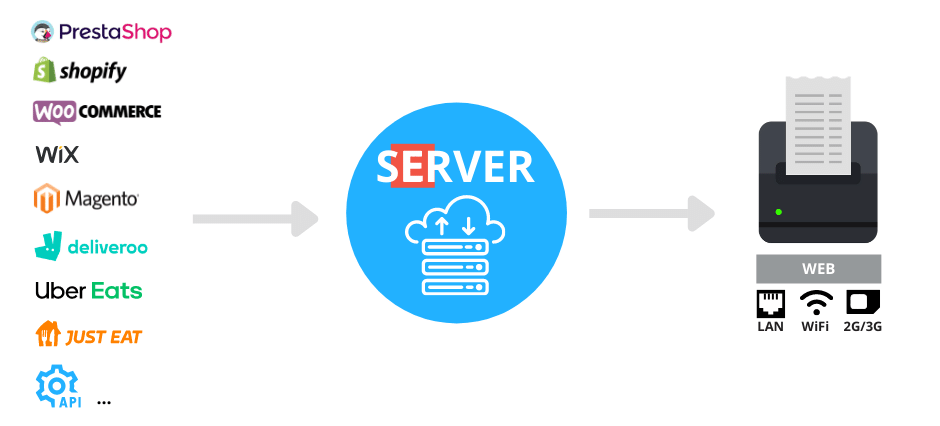 Expedy Cloud Print Server
Connectors plugins Merchant sites / Delivery platforms / Marketplace / RESTFUL API (cURL, PHP, JavaScript, Python, Ruby, …)
Internet data transmission to printer language and Autonomous POS ESC: automated printing of order data (dates, items, qty, options, prices…)
7/7 customer support English French chat/email QOS2 technology: guaranteed deliverability of 99.999999% impressions
Guaranteed 0 loss: print job pending if device disconnected or switched off reprints the entire ticket in the event of a machine error (paper missing, incomplete print end of roll)
Servers hosted in France, Europe, USA Compliance RGDP
NOCODE installation without computer knowledge
WooCommerce, Prestashop, Shopify, Wix, HubRise, Uber Eats, Just Eat, Deliveroo We add connectors every day, yours is certainly either already developed or in our roadmap 😉 And if you are a software publisher, we will be happy to work together to interface.
Developers
Restful API: API Documentation
Technical features
Weight: 1.4kg Product dimensions: 195mm×145mm×144mm (LxWxH) Packaging dimensions: 225mmx205mmx150mm (LxWxH) DC 24V 2.5A
Content
1 Expedy Cloud Print printer model XPDY80EWBG
1 Food
1 Roll Thermal Paper 80MM
1 French/English online documentation
ATTENTION: This product requires a Cloud Print subscription.
Sim card not included
Additional information
| | |
| --- | --- |
| Weight | 1,4 kg |
| Dimensions | 19,5 × 14,5 × 14,4 cm |
Only logged in customers who have purchased this product may leave a review.