Prestashop Module : Cloud Print orders automatically
The Prestashop module is compatible with Printer-Point's printers, so receipts are printed automatically when there are new orders.
The printer is autonomous, so there is no need for you to do anything for receipts to start being printing. You don't need a computer, a tablet or smartphone.
You need an internet connection (WIFI, Ethernet RJ45 cable, 3G/4G SIM card) because your printer will be connected directly to your PrestaShop website through our Cloud Printer Server.
Contact our support if you need us to check the compatibility of another module with our printers.
NB : your Prestashop website must be on a "normal" setting with a SSL installed, please don't active the "dev" or "debug" mode which can block data to be sent through a API request preventing printing request to be received by the printer.
How to install the module
In the Back Office of your Prestashop, go to the "modules" section.
Then click on "Add a module" or "Install a module"
Upload this module
The module is installed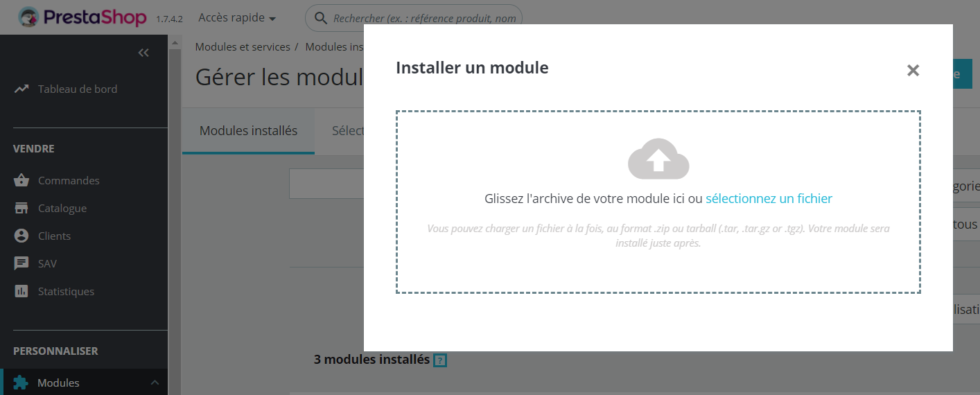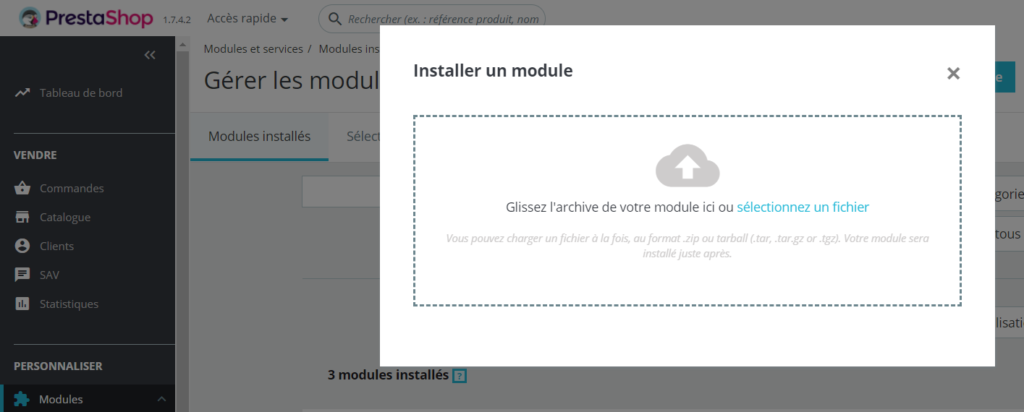 API settings
| | |
| --- | --- |
| SID | API key is available in your Expedy Dashboard in the "API" section. If you don't have your access, contact our support. |
| TOKEN | Secret Key only available in your Expedy Dashboard in the "API" section. |
| PRINTER ID | Unique Identification Number (UID) of the printer visible in your Expedy Dashboard in the "Imprimantes" (printer) section. Example : WP0RGS1SEDZ (don't use the symbol #) |
| MODEL | This is the type of printer you have according to its paper roll size Examples : PP-58EWG (58mm) – PP-80EWG (80mm) – KIT-B-BP1 (108mm) |
| AUTO-CUT | This option is available on some models of cloud printers, so check the product's description (not available on "MINI" models and 100mm). It allows the printer to automatically cut the paper at the end of the printing process. |
Printing options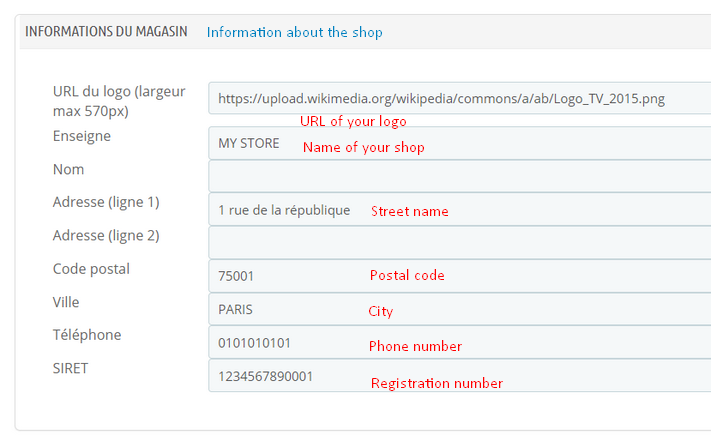 Information about the shop

To print the logo at the top of the receipt, use the URL of logo hosted on internet
(Be careful : the URL must be in HTTPS)
Details for each item
You can choose among several options to show the level of details about each item according to what you need (references, attritubes…)
Sum
Choose if you want to print totals, with or without VAT
Print automatically
Choose if you want to print : all new orders, "paid" orders, by type of payment, etc.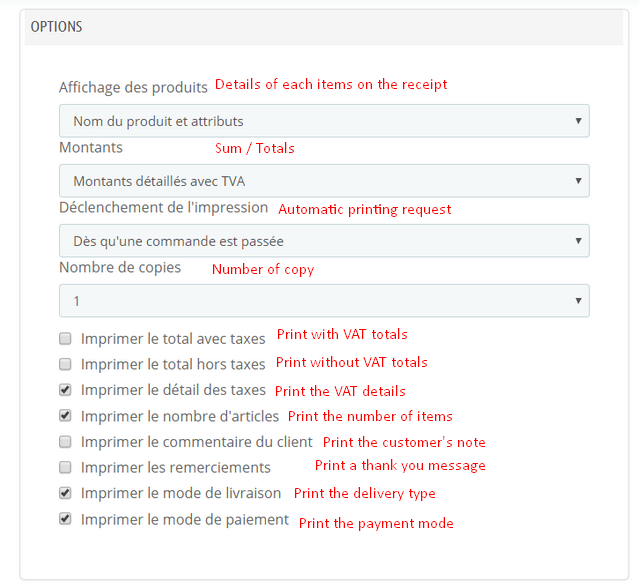 Compatible modules (non-exhaustive list)
Our Printer Point module for Prestashop can be used by other modules to print further information, such as the type of delivery, the date and time of delivery, etc. For more information about other compatible modules, contact our support.
> Pickup at Store Module (BELVG)
> Preferred Delivery Time (Knowband)
> Configurator of product (DMConcept)
> Nearby Delivery with time slots  (Prestatill)
> Drive, Click & Collect / Retrait Magasin (Prestatill)
> PrestaDrive
We can't guarantee that all information of your orders will be correctly printed if you have modified your Prestashop or install other modules that might affect original functions of a Prestashop website. If your receipts don't have all these information, you can contact us to have a customization of the module.
Multi printers / Marketplace
You can add more than one Printer Point's printer to your Prestashop website.
If you have more than one store, you can decide for example to send the receipt to prepare the order to the London shop (LONDON01) thanks to the printer AA001 and not to the Edimburgh shop (EDINB002) connected to the printer AA002.
How to personalize your receipts
You can modify receipts through our API system. You can change the layout of the receipts, add more information or images.
Information from the Prestashop's database (either from Prestashop itself or from a compatible module) are printable.
> Discover more information on how to modify the layout of a receipt

If you don't have the skills or time to modify your receipt yourself, you can ask a quote to our support.