Internet connection with a Ethernet cable (LAN RJ45)
We recommend you to use an Ethernet cable (LAN) to connect the printers to internet as to avoid any loss of internet connection and to increase the transfer of data.
In order to do this, you need to connect your printer to your internet routeur with a RJ45 ethernet cable.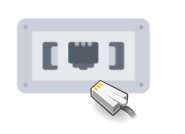 The connection will automatically be in DHCP.
A fixed green light will indicate that the printer is correctly connected to our Printer Server and ready to print.
The 1883 in / out ports must be opened.
QuickStart Video 58mm
QuickStart Video 80mm
Related