GPRS connection settings SIM Card 2G 3G 4G
Modèles compatibles :
CLOUD : PP58EWG, PP80EWG, XPDY80EWBG

Demo : How to insert the SIM card in a 58mm cloud printer
Demo : How to insert the SIM card in a 80mm cloud printer
SIM cards
Some phone operators require you to configure the APN of the printer.
We recommend you deactivate the WIFI (check NONE) before testing the 3G/4G connection.
If you use a Expedy Mobile SIM card, you can use the following APN : em.
The printer's GPRS modem is compatible with all operators using the following frequencies : 900/1800/850/1900mhz.
Remote configuration (API)
You can use the API, or go do the Expedy Dashboard where you will write the following code:
<SETAPN>myapnhere</SETAPN>

APN configuration (Windows software)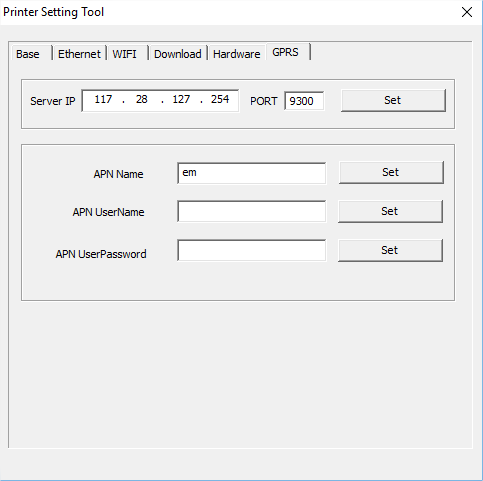 The connection is impossible ? (flash LED light is red)
If the GPRS connection is not working, and that the LED light shows an error by flashing once in red, you must check your SNTP server configuration or contact our support.
We recommend you use the following SNTP server : time.google.com