How to install the PrinterSetting software
USB or NETWORK (WiFi/Ethernet) connection (only for Windows)
Compatibility of product models
CLOUD : PP58EWG, PP58EWG-R, PP80EWG, XPDY80EWB, XPDY80EWBG
UBER EATS : PP80UEWBT, XPDY80UWB
POS : PP80USBEBW, XPDY80U, XPDY80USBEBW, XPDYPOS80UEB
Follow these steps:
Download the PrinterSetting software :
https://www.printer-point.com/docs/printersetting_printerpoint_software.zip
Connect the printer with a USB cable or an Ethernet cable to the same network that your computer.
Select USB or ETH, then click on [Check Port]
A receipt [Check Port Success] is printed to confirm the connection to the printer.
Every modification is always confirmed by a printed receipt and/or a Beep.
Click on [Enter Para Setting] to configure the settings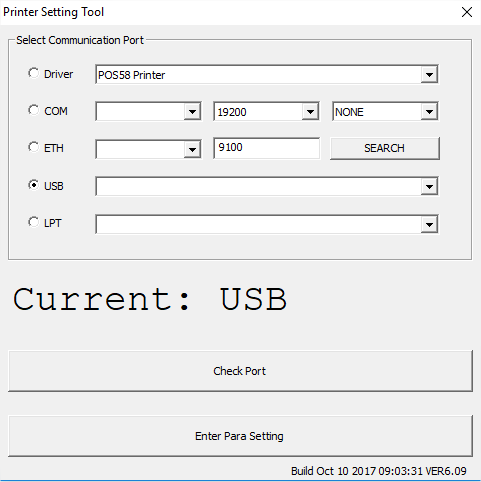 Be careful : the software enables you to edit the settings, however the settings you see when you open the software are not those used, there are the "by default" settings.